Gutter Guard Installation in Shelton, Beacon Falls, & Nearby
Wide-mouth outlets and high-back gutter troughs keep the leaves, debris, and water away from your Connecticut home!
Lifetime No-Clog gutter guards in Western Connecticut
Gutter guards and covers are essential to keeping leaves, twigs, pine needles, and other yard debris out of your rain gutters so they're operating at their highest efficiency. There are plenty of gutter safeguard options on the market to keep debris out, but none of the options work like GutterShutter.
What's wrong with the gutter protection you have now? Gutter screens still allow debris to enter the water channel, gutter filters quickly clog, defeating their purpose, and traditional gutter covers void roof warranties and lack curb appeal.
Luckily, Brown Roofing Company, Inc. has an all-in-one solution to replace those ineffective gutter covers, complete with a Lifetime No-Clog Guarantee! We offer free estimates for proven gutter guard installation. Schedule your free gutter and gutter guard estimate today in Trumbull, Shelton, Newtown, Woodbridge, Beacon Falls, Norwalk, Stamford, Thomaston, Darien, Naugatuck, and nearby!
Clogged gutters in Western Connecticut?
Have your gutters lost their ability to direct water off of your roof, and away from your home and foundation? Clogged gutters can lead to a wide range of issues for your Western Connecticut property.
Dangers of clogged gutters: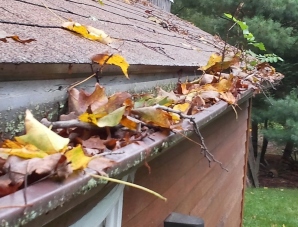 Clogged gutters cause damage to your fascia, siding, and roof, and attract insects and pests.
Clogged, heavy gutters may rot wooden siding and fascia, leading to lower indoor air quality and mold growth within the home.
Pests are more likely to inhabit a clogged gutter with stagnant, restricted water flow. Decaying leaves create a breeding ground for mosquitoes and other unwanted insects.
Ineffective downspouts and clogged gutters make foundations more vulnerable to damage and flooding.
Damage to your landscape may occur as water bypasses clogged gutters and floods gardens and hardscapes below.
Ice dams and icy sidewalk conditions may occur as snow and water pool due to a clogged drain.
With gutter guards by GutterShutter, you don't have to worry. Brown Roofing Company, Inc. will install the right gutter guards, gutters, end caps, downspouts, and extensions to protect your home and property. We offer a broad range of gutter colors to suit your Connecticut home.
Free gutter guard estimates in Western Connecticut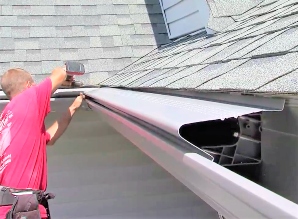 Brown Roofing Company, Inc. gutter guards never clog or leak.
Don't be caught off guard with faulty gutter guards! The GutterShutter complete gutter system includes gutter covers, gutter downspouts, and premium-grade aluminum gutters, guaranteed to never pull away from your home or clog.
Stop letting leaves, debris, and other unwanted items clog your gutters and jeopardize the safety and value of your Shelton home! Get in touch with Brown Roofing Company, Inc. today for premium, expertly-installed cover gutters throughout Western Connecticut.
Looking for a price? Get a no cost, no obligation free estimate.