Western Connecticut Metal Roofing Installation
We install durable, low-maintenance metal roofs
Metal Roofing Services by Brown Roofing
Metal roof repairs
Metal roof replacement
Metal roof installation on new and existing buildings
Free evaluation and inspection of metal roofs
Free estimates for all repair and replacement work
The history of metal roofing is extensive and it has a bright future as a roofing option for residential and commercial buildings.
Initially, metal roofs were expertly fabricated on site by skilled contractors from large rolls of sheet metal, meaning that the earliest metal roofs were standing seam. These traditional metal roofs can still be found on historic homes to this day. Currently, new metal roofing comes in the form of factory-crafted steel panels.
Ridges in the panels create overlapping seams during the roof installation. Factory-applied finishes offer different color choices and corrosion resistance.
Want to learn more about installing a metal roof on a new building or replacing your current roof with a metal roofing system? Get in touch with Brown Roofing's reliable roofers today! We offer free estimates for all our roofing services throughout Connecticut. We proudly serve Trumbull, Shelton, Southbury, Beacon Falls, Newtown, Stamford, Woodbridge, Naugatuck, Thomaston, Norwalk, and nearby.
Why Choose Metal Roofing from Brown?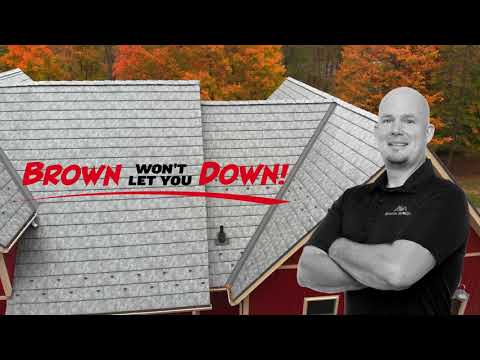 Features & Benefits of ProVia Metal Roofing
Learn about the many benefits of ProVia metal roofing installation from Brown Roofing. Brown Won't Let You... Watch Video »
Metal roofing is versatile, available in shingle, slate, shake, and tile styles.
Benefits of Metal Roofing
Little to no maintenance required
Long lasting and durable
Comes in different styles and colors
Sometimes installs over existing asphalt shingle roofing
Made of recycled content and easily recycled, making for good green value
How to choose a metal roofing contractor
Do you need repairs for your metal roof, or do you want to have a new metal roof installed on your home or commercial building? Make sure to choose a roofing contractor who has experience with this kind of roofing. A qualified contractor should offer you a free estimate on all roofing work in addition to references from past metal roofing installations.
The size, slope, and style of your roof play a factor in the cost of metal roof installation. One consistency is that steeper roofs always cost more because of the additional staging that is necessary. A complicated roof with multiple valleys and intersecting ridges will be more expensive than a standard gable or shed-roof structure. Contact us today to find out which roofing materials are right for your home!
We specialize in metal roofing and other types of roofing systems. We have the expertise and equipment to ensure a seamless roof repair, roof replacement, or new roof installation in Newtown, Beacon Falls, Woodbridge, Stamford, Norwalk, Naugatuck, Thomaston, Southbury, Shelton, Trumbull, and nearby.
Reach out to us today at 1-888-617-5054 or contact us online to schedule a metal roofing estimate and to meet with one of our professionals as soon as possible!
Metal Roofing FAQ
Metal roofing may not be the first choice for property owners when replacing an existing roof or constructing a new building, but maybe it should be! Metal roofing has a variety of unique characteristics compared to alternative roofing materials, and often these differences offer significant advantages in terms of longevity and performance.
Learn more about metal roofing by clicking on the frequently asked questions below!
Does a metal roof cost more than alternative roofing types?

When it comes to metal roof installation, the cost depends on the same factors of any roofing installation: roof pitch (steeper roofs are more expensive), roof size, and roof complexity (the number of ridges, valleys, skylights, and dormers). You can expect a metal roof to cost two or three times more than an asphalt shingle roof. A metal roof generally costs roughly the same as a tile or cedar shingle roof, but less than a slate roof.
How much longer will a metal roof last than other common roofing materials, like asphalt shingles?

Metal roofing stands up well against weather extremes. A newly installed metal roof will last 40 to 60 years. An asphalt shingle roof, on the other hand, can wear out in just 15 to 20 years when it's exposed to severe weather conditions such as heavy snowfall or blazing sunlight.
How will a metal roof stand up in bad weather?

Metal roofing comes with an ultra-durable factory-applied finish that makes it extremely durable and resistant against weather-related damage. A metal roof sheds snow, preventing ice dams from forming, which is different than asphalt and wood shingle roofing, which hold snow. Unlike wood shingles, metal roofing won't degrade in direct sunlight. It also won't lost its protective layer of material, which is what occurs when asphalt shingle roofing slowly sheds its protective granules. A properly installed metal roof surpasses building code requirements for resistance to lift in high winds. Though hail damage (denting) can happen in a severe hail storm, dented panels are typically easy to replace.
Is a metal roof noisy when it rains?

The noisy reputation of metal roofing is due to the fact that barns and sheds have metal roofing installed directly over exposed, open framing. However, when metal roofing is installed over plywood or OSB underlayment (sheathing), the noise during a rainstorm is significantly reduced. Generally, it is no more than what an asphalt roof would sound like during a storm.
How "green" is metal roofing?

Every year, approximately 20 billion pounds of asphalt shingles are dumped into landfills in the United States. This has a negative impact on the environment. Metal roofing, on the other hand, can be installed directly over an old asphalt shingle roof and will last two to three times longer. Metal roofing is made of recycled steel and is easier to recycle than standard asphalt shingles.
Will I be able to find a style and color of metal roofing that will look nice on my house and in my neighborhood?

The options for metal roofing tend to surprise people who may be unfamiliar with this type of roofing. Although it is possible to install metal roofing manufactured to look like other materials (tile, slate, wood shingles), a lot of home and business owners choose metal roofing panels manufactured in different parallel profiles that run the length of each panel. When it comes to roofing colors, your choises are practically limitless. Transition profiles, compatible flashing, and other roofing elements are also available to give your metal roof a well-designed appearance.
Looking for a price? Get a no cost, no obligation free estimate.