Expert Vinyl Siding Installs in New Haven, Fairfield, Litchfield Counties and Throughout Connecticut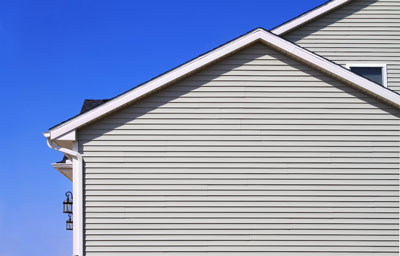 Excellent value: Vinyl siding comes in a variety of styles and colors, is relatively inexpensive, and is nearly indestructible, making it easy to understand why it's so popular.
Improve your home with durable, maintenance-free siding
There are many options for exterior home siding available today. Vinyl siding is an excellent choice because of its value. The vinyl material sheds moisture instead of absorbing it like wood. Because of that, vinyl siding does not support mold or mildew growth and won't get moisture damage.
Vinyl siding is designed with the best durability in mind. It is able to retain its original color despite extreme exposure to the elements. This siding product also delivers impressive performance without requiring any maintenance. The cost of installation is your only expense.
New siding, in conjunction with a well-maintained roof, can increase your home's value and dramatically improve your home's curb appeal. Brown Roofing Company, Inc. is your one-stop source in Western Connecticut for all of your roofing and siding needs! We specialize in quality vinyl siding installation in New Haven, Fairfield, Litchfield Counties, including Trumbull, Shelton, Newtown and nearby.
Schedule A FREE Vinyl Siding Estimate
Call us or fill out the form for your free estimate for roof repair, home siding installation, roof replacement, and other roofing services in Connecticut.
Vinyl siding that looks as good as real wood shingles and shakes
Vinyl siding's popularity has grown significantly over the years, and it's easy to see why when you consider the benefits.
Made primarily from PVC (polyvinyl chloride) resins, vinyl siding was first manufactured in the 1950s but wasn't widely used until the late 1970s.
Vinyl siding offers zero maintenance, immunity to mold and moisture damage, and plenty of styles and colors to choose from.
In better-quality vinyl siding, a wood-grain surface texture can make the product look surprisingly like real wood. Better grades of vinyl siding also tend to be thicker, for improved rigidity and greater impact resistance.
Since PVC expands and contracts significantly in response to temperature changes, vinyl siding can't be solidly nailed to wall sheathing. Instead, each course of siding "floats" on slotted nailing fins.
Here at Brown Roofing Company, Inc., we can install home siding to suit your style and budget. Contact us today to get started!
Complete your exterior renovation with a well-crafted trim detail

Customer Reviews

By Stacy C.
Beacon Falls, CT

By Kristy
Beacon Falls, CT

"Brown Roofing was a huge help when repairing our house after storm damage. From the first phone call until the job was completed,..."

By Mark W.
Naugatuck, CT

"Truly the best! Experience makes all the difference, quality workmanship!"

By Bethany, CT Homeowner
Bethany, CT
The impressive look of a new siding install is as much about trim details as it is the siding itself. In a truly professional installation, the corner trim, J-channels, soffit panels, gutters, and downspouts all look good together. Compatibly colored caulks and sealants should also be used. Make sure to go over these details when planning your new siding installation.
We are Western Connecticut' expert siding contractor, working in Fairfield, New Haven & Litchfield Counties, including Woodbridge, Beacon Falls, Norwalk, Stamford, Thomaston, Darien, Naugatuck and many nearby towns and cities throughout Connecticut. For a vinyl siding price estimate, contact Brown Roofing Company, Inc. by phone at 1-844-385-9313 or contact us online today!